Well, my boss is out of town and I finally thought of something worth writing about.
"How small a thought it takes to fill a whole life!"
-Wittgenstein
What is a slogan? What is sloganeering?
I am not interested in advertising slogans.
One definition of a slogan is "thought stopping cliche". Like most attempts to define words with other words, this is both a failure and misleading. It is a failure as it gives no insight into the nature of slogans than Euclid's definition of a line as "breadthless length" gives us insight into the nature of the line.
But it is the misleadingness of the definition that makes it worthy of contempt. The idea that people who are our opponents do not think is noxious to our own thought. The idea that even those who have been duped by cults and other such things so not think is outright dangerous. The problem comes that when we are ourselves duped we can fool ourself further by noting that we continue thought. Surely this means we are not sloganeering?
A slogan must be a sentence like any other, capable of being evaluated. If a slogan is untrue, then it is bad because it is wrong, not because it is a slogan (e.g. "Slogans are thought stopping cliches"). If a slogan is true, then we can have no problem with it. A good example comes from Richard Feynman.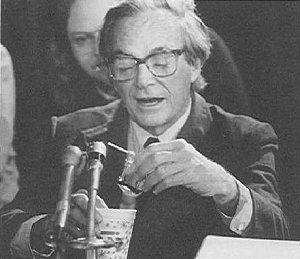 Dr. Feynman was asked to see the work of Uri Geller. Mr Geller claimed to be able to manipulate matter without using matter, called "psychic power". His demonstration of spoon bending was particularly disseminated. The trivial use of what would be an astounding discovery suggested to many that what was happening was no more than a parlor trick. Feynman enjoyed the spotlight and acquiesced. When Mr Geller bent a spoon, Feynman was unimpressed. When asked to explain it he said "I'm smart enough to know I'm dumb".
This certainly is a slogan. Though Feynman was quite a free thinker, he did not explain Geller's spoon bending. This was an important decision, as if he had held out various hypothesis he could have fooled himself into thinking that there was no alternate hypothesis, which (since it is well known that anything true can be proven infinitely many ways) is almost always false. In fact, Dr Feynman's slogan is not quite correct. A talented - if amateur - magician, Dr Feynman was able to figure out how he did it and provided evidence of its truth. Feynman's explanation was that he was using prestidigitation to hide that he was bending the key with his fingers. When asked to bend a hard metal key, Mr Geller could not perform.
Still, Dr Feynman's slogan is obviously true if parsed correctly. We cannot fool ourselves into thinking we can out-think charlatans, for nothing plays better into their hands than hubris. I do not think that anyone can accuse our desire not to fool ourselves with the end of thought.
Some slogans, like some sentences, are vague. The slogan "Live for nothing or die for something" used by Burmese freedom fighters might express a truth, but it must be a vague one. "something" could mean anything from freedom to the love of a dictator. In it's original formulation it is a question, the information it wishes to gather is if the questioned prefers a meaningless life of oppression and poverty or a the danger of a life with meaning (and, admittedly, still poverty) casting off the oppression. In this case, it is still a slogan but it is not a vague one. "Is certain painful meaninglessness life worse than the risk of a painful death?" is not a question that has easy answers, but it is a valid inquiry.
I think that those examples suggest a generalization. The properties that they share are striking, despite the differences in formulation.
A slogan is a sentence, to be sure. It must be a pithy sentence. A slogan only exists in a general context - it must relay an aspect of a philosophy that is parsable within the philosophy. Both of the slogan's examples used contradictory imagery to convey a point, though I think it would be too hasty to claim that was a general property.
Further empirical study of this, even one equally amateurish as my own, could yield insight.
I think that it is impossible to consider the manipulative powers of slogans without conjuring Geroge Orwell. Orwell's short novel
1984
asked us to consider a nightmarish world where an omnipotent government was able to control the sense of reality of it's people through propaganda, continuous warfare and even torture. Central to the government's plan is "Newspeak", a language in which criticizing the government is grammatically impossible. The value of the novel was our drawing of parallels between it's idealized totalitarian state and real states. But if sloganeering isn't formulated as "thought stopping cliche", then does the rest of his analysis hold?
The ultimate chapters of the book are a direct confrontation with a horrific terror, the concept that a person can hold ideas that they do not even believe - a constant self-induced rewriting of one's perceptions of reality until it matches what the government desires. As terrifying as this still is, I must admit that age seems to soften the blow. I simply cannot realistically believe that an actual dictatorship requires or even encourages this behavior. It is the case that people who are fooled are truly fooled.
The servants of Kim Jong-Il truly believe in him. Doublethink is absent. Doublethink, which requires knowledge of his baseness, is illegal.
When we look at the behavior of the manipulative in the real world, we see that they often come up with world views that are self-supporting. Even if we do not think they believe it (irrelevant to it's truth as it is), we cannot prove this. Trying is a honeyed trap.
Though it is repetitive, I must remind you of the misleading nature of believing that a slogan is a thought stopping cliche. It turns a word into a barb, one's enemies are unthinking sloganeers that believe something patently untrue. It is almost impossible to apply this to oneself. But it is actually true that any mildly eloquent person speaks in slogans, because a good slogan says a true thing in an efficient way. We reduce other people to a word - "hypocrite" - and leave them. Is it not obvious that much is lost in this lonely path? Must we proclaim our own sanity so loud that we call the world mad?